I took the leap! A couple weeks ago I left my comfortable, 9-5 photographer job at an international online retailer and jumped into being a full time freelancer. I had that job for almost 8 years, and although it gave me opportunities to flourish in my career, I had finally reached the ceiling of my potential growth there.  It was time to strike out on my own.
The Start of My Side Hustle
To be honest, I sensed that my time there was coming to a close over a year ago. Back then I realised that my growth was slowing down and that I needed to find new ways to challenge myself creatively. At the time, my obsession with Instagram was still new and I was spending hours exploring different feeds and reading expert advice on how to grow your following. My IG feed @whatshepictures actually started as an experiment when I wanted to A/B test my images on my personal feed versus my company's feed. I spent ages testing the two accounts. It became clear to me that content was king, but that your brand was what made you fly.  More importantly, I discovered a huge online community full of encouragement and support for women like me wanting to branch out on her own and start a new path. So I dove in and began building my personal brand.
Learning the ins and outs of social media laid the groundwork for eventually quitting my job. I used it (and still do) as a marketing platform to attract businesses that would hire me for my content creation services. You'll see on my feed that I occasionally do sponsored posts. Although I love working with a few select brands in this way, I try not to build myself up as an influencer and instead focus on my content creation business. It never felt right to rely on my popularity as the main source of my income, especially since popularity has a way of being fickle and hard to predict.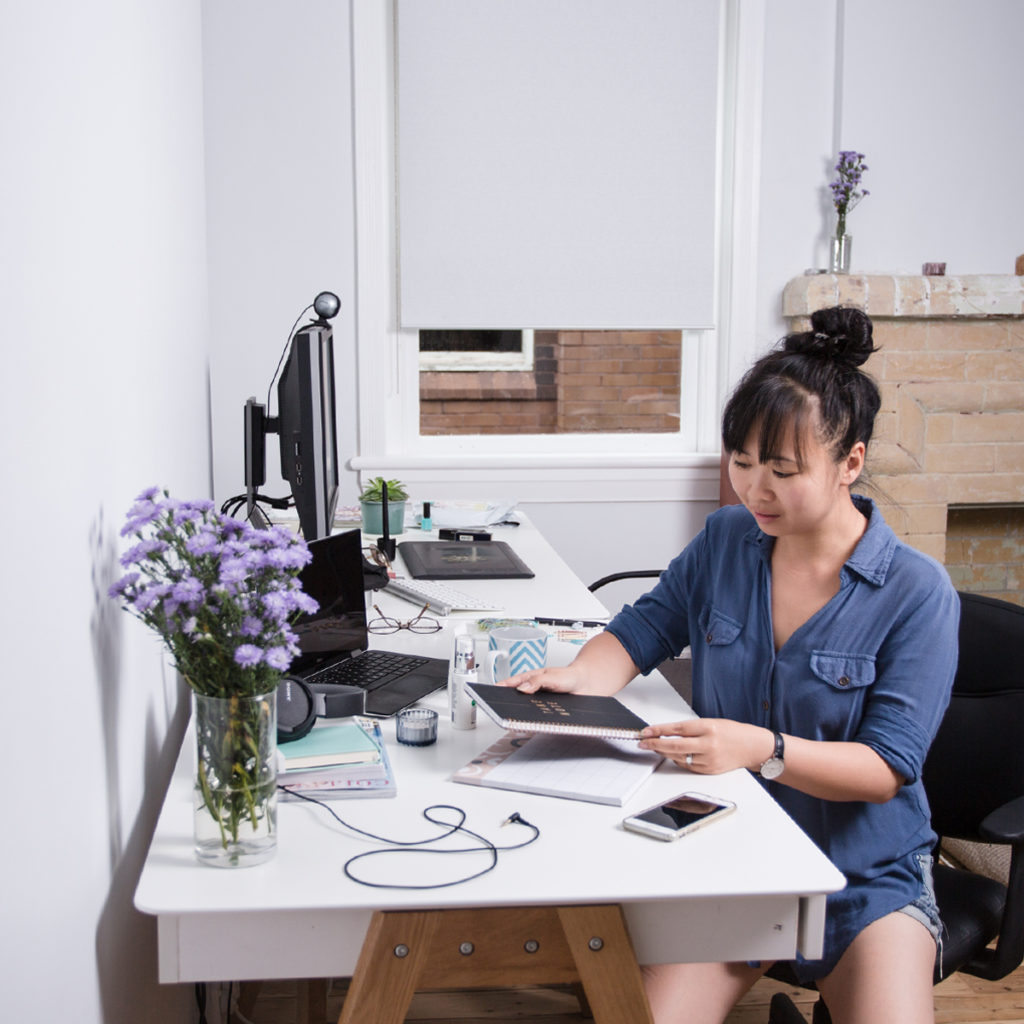 Styling a lifestyle photo shoot in my home office
The Plan
Building my business on weekends and evenings was my focus for the next year. It was rough giving up my time to pursue my side hustle, but I knew that the investment would pay off in the end. Juggling all the things with the little precious time you have is stressful and emotionally draining. Hubby and I hired a cleaner and ordered lots of takeaway food so we could focus our time and energy on what was most important to us. Outsourcing our cleaning and cooking meant we could actually spend time together instead of dealing with chores. All the while we reassured ourselves that the craziness would be temporary.
We talked long and hard about what it would take for me to turn my side hustle into my full time job. Talking money is not something I like to do, but it was necessary to have a goal to work towards. And that goal couldn't be any random dollar amount plucked out of the sky. Together we worked out how much money I wanted to pay myself in my business, how much money I needed to run it, how many jobs I thought I could book each month, and then how much money I needed to charge my clients in order to sustain that plan. Hubby was my greatest cheerleader when it came time to raise my rates. He helped me understand that my time, skills and experience are valuable and should be charged accordingly.
The Turning Point
Life for me was a constant juggling act and I wondered how much longer I could keep it up before having a full meltdown. Then it all came to a head in one milestone week. I was offered two large, well paying gigs in the same week and I realised that I would need to turn one, if not both of them, down because I didn't have enough time to shoot them. It was my aha moment. I had finally reached a point where my full time job was literally holding me back from growing my side hustle. It was time to leap. So I put in my notice at work and said yes to both gigs. I scheduled the rest of my annual leave to create a part time work schedule in order to have the time to shoot both new projects while finishing up at my 9-5 job. It was challenging to tackle those projects while still being pulled in so many directions. The stress of those weeks alone was insane, but knowing that I had an end date ahead of me was all I needed to push through to the finish line.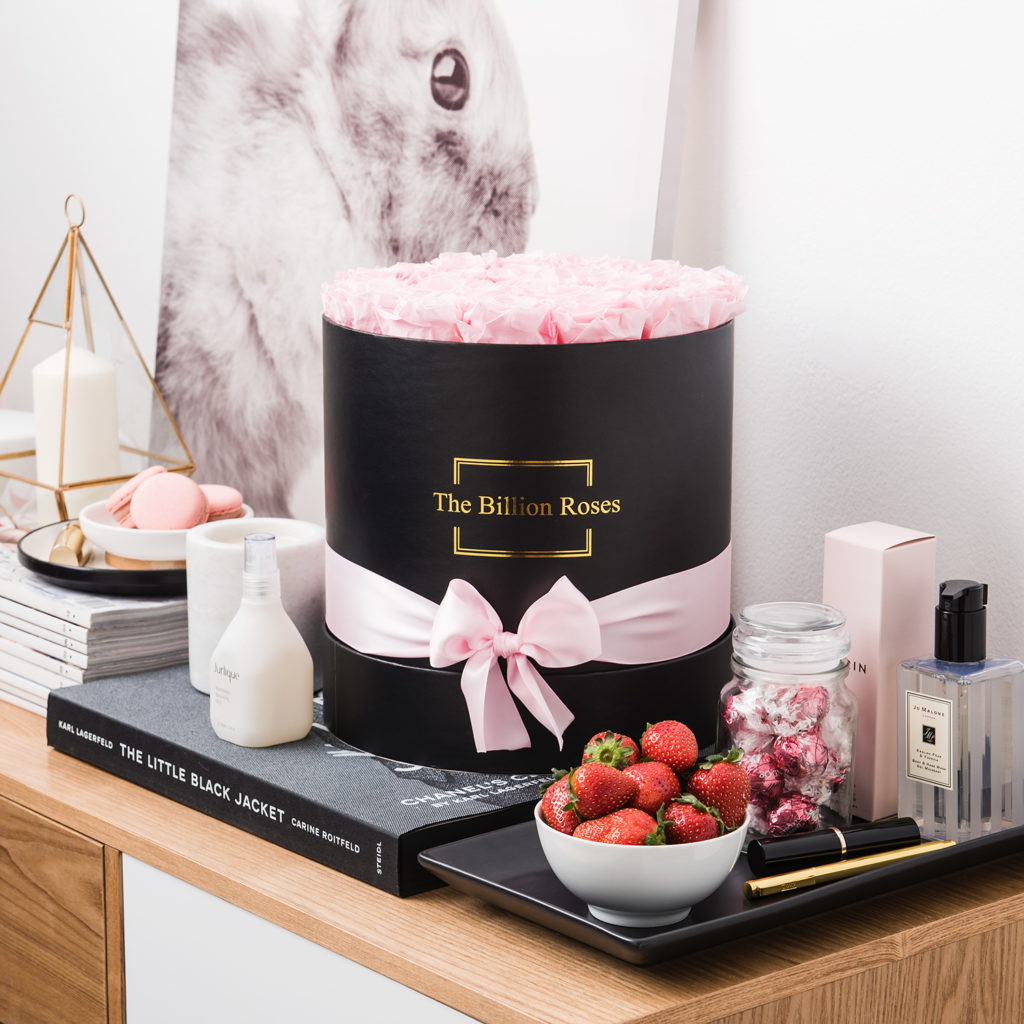 Photo styled and shot by me for one of my favourite clients, The Billion Roses
The Freelance Life
Now, here I am, all ready and willing on the other side of that invisible finish line. I took the leap and for the next few months I'll be finding my feet in my new freelance life. I'm hoping to create a solid daily and weekly routine where I can focus on my clients during actual business hours, have evenings and weekends free, and maybe even attend to my health and fitness again. I'm working towards a balanced life while doing what I love to do. It's the dream. Watch this space as I attempt to make this dream a reality.