Your hashtag strategy is a key component to growing your Instagram following. There's lots of conflicting advice in Facebook group chats and blog articles so it's hard to know what to believe. How many should you use? How do you pick the right hashtags? Do they even help your reach? It's enough to make your head spin and just give up altogether.
Hashtag research is actually pretty easy, but it can be a bit time consuming which is why a lot of people don't bother. But not finessing your hashtag strategy could really limit your reach and follower growth.
A solid hashtag strategy will attract your target audience and grow a loyal following which all contributes to your bottom line. Read below to learn how to use hashtags to increase your reach on Instagram.

Know what hashtags your target market is searchin

g
Are lots of your followers your peers? When I started using Instagram, I was attracting other photographers, my industry peers, and not potential clients. This was because I was using hashtags that other photographers were searching and not what my clients were using.
Think about your target audience. What problems are they trying to solve? Understanding this is key to learning how they're using hashtags to search for new accounts like yours.
For example, as a flatlay photographer, my goal is to attract Australia-based marketing managers and business owners who need product photography for social media. So instead of using hashtags like #canoncamera (attracting my peers), I'll have better luck using a hashtag like #sydneyphotographer.
This also means being careful about using hashtags that only describe your image. My potential client won't search for a photographer with the hashtag #roses or #flowers so I shouldn't use those hashtags even if there are roses in my photo.
The takeaway? Use hashtags that describe your brand (not your photo) to attract your target market.
Research Hashtags On Instagram
Now that you have a better idea of what your target market may be searching, brainstorm a master list of possible hashtags for your account. Search the hashtags on your list on Instagram itself to see if they'll give you good results.
A hashtag search results in a page of posts all using that same hashtag. What is the overall quality of the posts for each hashtag? Would this hashtag entice your target audience to scroll through the results and click on the images? Or would they be turned off and search something else?
Only use hashtags that put your posts in the company of other quality content that attracts your target audience. This is where they spend their time so it's where you want your content to be.
Once you find a good hashtag, know that it can lead to other good ones. At the top of your search results, there's a list of hashtags that Instagram suggests are related to your search. This is a fantastic way to discover new hashtags that may be heavily used by your target audience.
Find The Right Sized Hashtags
It's important to note how often a hashtag is used before adding it to your master list of vetted hashtags. Big hashtags like #roses that have over 18 million uses means that your post will likely get lost in the mix.
The goal is to have your post appear high up in the hashtag feed. The more competition in a particular hashtag will make it harder for your post to be seen. Aim for hashtags that have between 50k-500k uses and see how your posts perform over time. If your posts consistently end up in Top Posts in larger hashtags, try experimenting with even bigger hashtags of up to 1 million to increase your reach.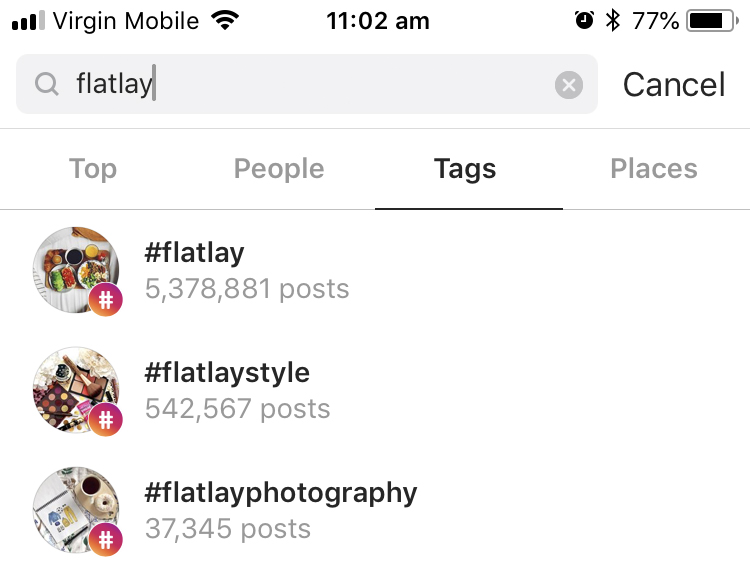 Community And Brand Hashtags
Using established community and brand hashtags is a powerful way to tap into an existing audience. One of my favourites is Rising Tide Society's community hashtag #communityovercompetition. People who use and search this hashtag are very closely aligned with my target audience and it's been a great way to connect with other like minded creative business owners like myself.
Community based accounts often encourage followers to use their unique hashtag so users can be featured on the account itself. If your post gets featured, it can boost your following by putting your account in front of people who already align with your brand.
Create Hashtag Sets
Once you've vetted your master list of hashtags, it's time to get organised. Set up a spreadsheet of your best hashtags and put them into lists under the different topics you often post on your feed. Examples could be food, beauty, entrepreneurship, behind the scenes or inspirational quotes. When it comes time to post new content, just copy and paste the relevant hashtag set into your post.
How Many Hashtags Should You Use?
Instagram allows a maximum of 30 hashtags per post. Some people believe that using 30 looks spammy or messy and that using far fewer looks better. My advice? Use all 30. If you want to increase your reach, your post needs to be in as many places as possible to be found by a wider audience.
Remember, people follow accounts based on the quality of their content. The number of hashtags a post has won't be a deal breaker if they like what they're seeing. The truth is people just don't care. When they see a cloud of hashtags, their eyes usually just skip right over it.
Caption Vs. First Comment
There's a big debate over whether it's better to put your hashtags in your caption or if you should put them in your first comment. Both work and either spot won't change your reach. It pretty much comes down to aesthetics.
Some people like to bury their hashtags in the first comment so they get hidden after a few people comment. Personally, I can't be bothered with that step so I leave them in the caption. But I like to separate my actual caption from the hashtags by putting many spaces between the two so it makes the caption easier to read. It's all personal preference so do what makes sense for you.
Moving Forward
Switch up the hashtags you use from day to day to avoid spamming any particular hashtag. It may be off-putting to the people who follow certain hashtags, and changing them up puts your content in front of a wider audience. It's also good practice to update your master list every few months by researching what hashtags are best working for you, checking to see if a hashtag is getting too big, and finding new ones that are gaining in quality.
Set aside some time to nail your hashtag strategy every few months, and the results will be worth the time and effort. You'll increase your reach with your target audience and build an engaged following thus impacting your bottom line.
Note: This blog is in collaboration with Vamp and first appeared on www.vamp.me