Shooting great product photos at home can be much simpler than you might think. If all you need are photos for social media or your online store, you don't need a big fancy studio or lots of expensive gear like a professional photographer.
The main aspect of any photo shoot is having quality lighting. As long as this need is met, you can shoot just about anywhere. Natural window light is one of the most beautiful forms of light and best of all it's free. It's also accessible so long as you're able to shoot during the day. So if natural light is what works for your vision as a photographer, then setting up a product shoot in your home is easier than you think.
A Real Life Example
If you follow my IG feed @whatshepictures then you may have seen the content I shot recently for Moccona Coffee. You may have even caught the behind the scenes photos that I posted in my IG stories. Although I usually shoot my content in my studio, the dessert themed shoot was well suited for natural window light. Having recently moved homes, I decided to test out the window light for the first time in my new flat and I loved the final results.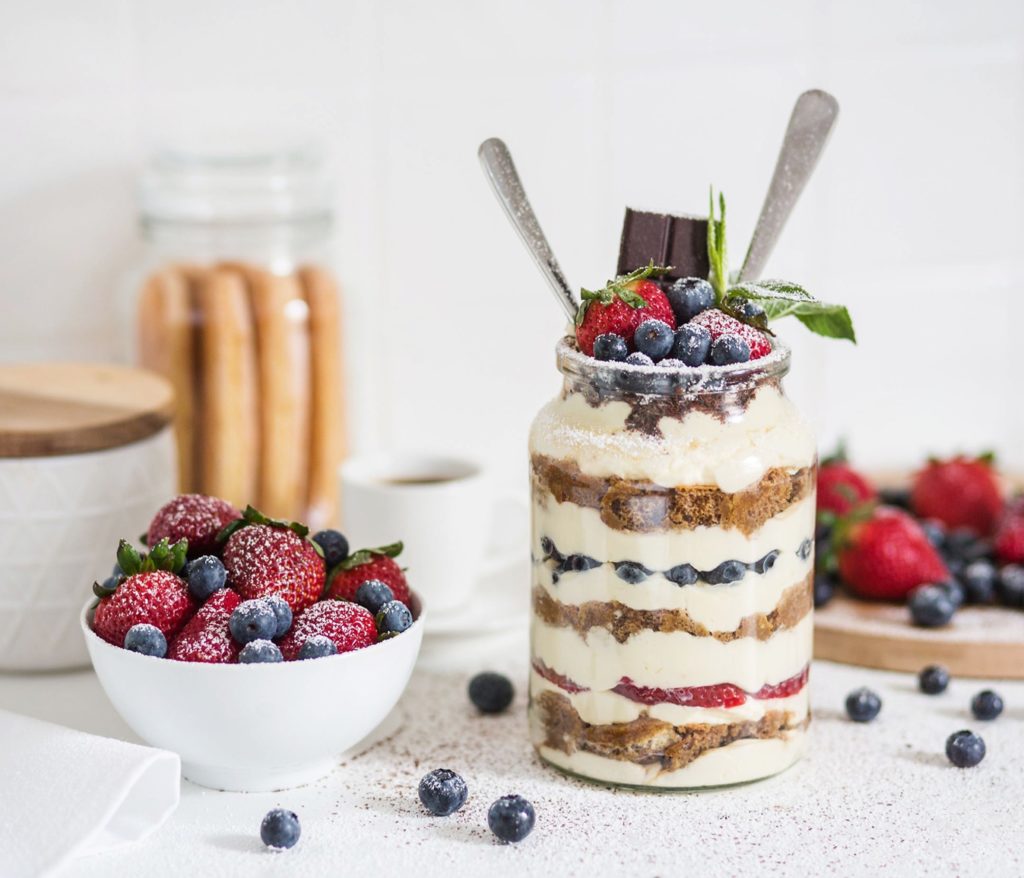 Homemade tiramisu photographed in my own kitchen using window light.
The Brief
Moccona Coffee asked content creators to show how they upcycle Moccona jars. My first instinct was to create content around one of my favourite desserts to make: tiramisu. The no-bake recipe is super easy to follow, and the layers of the cake made it a perfect candidate to be presented in a tall, clear Moccona jar. Plus, I thought it would make a fun stop-motion video to show the layers of the tiramisu building up.
The Plan
My idea presented a few technical problems. My studio has a lousy, inconvenient kitchen area so doing all the prep work on set was going to be a hassle. I wanted to present my tiramisu in a real life situation, and building a set in my studio was not going to be an easy solution. Also, window light and food photography is the perfect pairing so I knew that if I shot this in my studio, I would work extra hard to mimic window light – so why not just shoot it with real window light in the first place?
Shooting in a real kitchen made the most sense. Luckily, my kitchen has white tiles. They were the exact background I was envisioning for my video. My marble counter tops however, were not the right colour or pattern in my eyes. I removed a white laminate shelf from my wardrobe and placed it on my counter top to use as my set's surface instead.
The Shoot
I chose the exact location of my set based on the position of my kitchen window. I wanted my light to hit my hero product at roughly a 45 degree angle. Since I can't move my window, that dictated where on my counter my set would be.
After styling my set and doing some test shots, I saw that my shadows were too dark so I placed a white board (actually another shelf from the same wardrobe) next to my set opposite to my window to reflect light back into my shadows. I also put a second white board (this time a styrofoam block used as packaging padding in my recent move) off to the right side of my set. This board bounced light back into a darker corner in the background of my image.
As you can see from the below image, the set up itself is very simple. My light source is the sunlight streaming through the frosted glass of my kitchen window. The background was the tile backsplash in my kitchen. Pieces of melamine boards and box packaging were the other pieces I used to complete my set. All of these things were found around my home.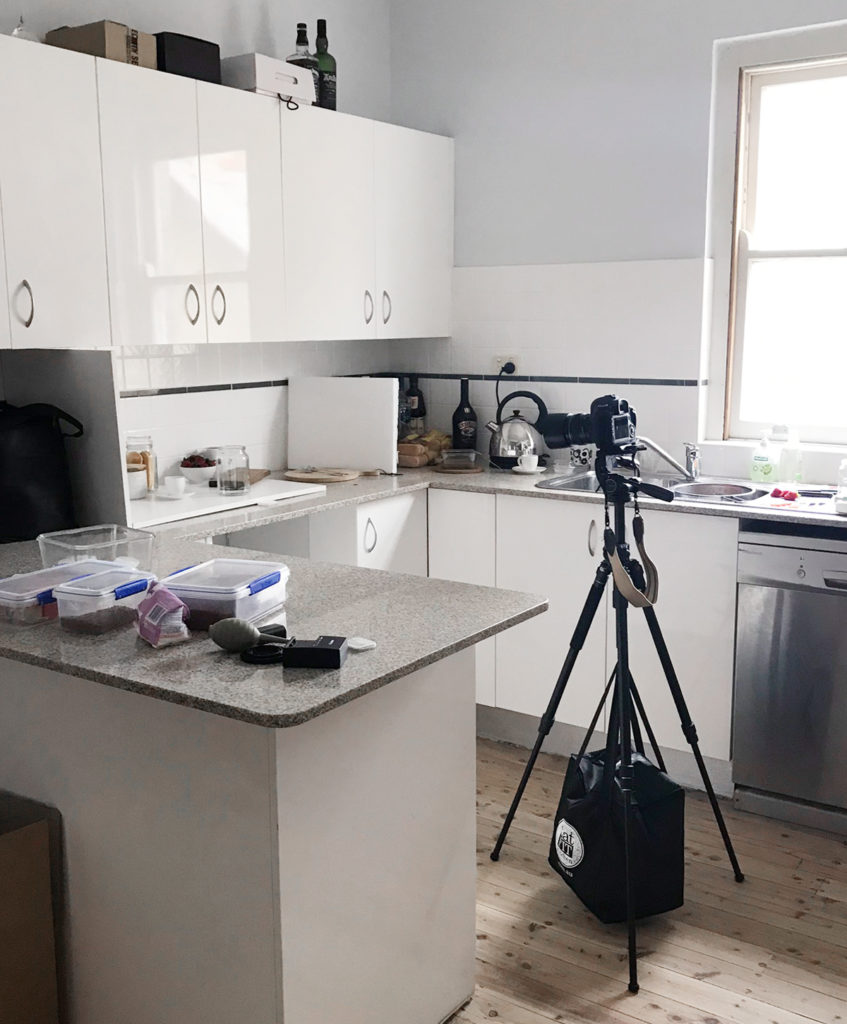 Window light photo shoot set up in my kitchen
The Camera
I shot this on my Canon 5D Mark III with my 85mm lens and my Induro tripod. I needed a tripod for shooting the stop-motion video, but it wasn't necessary to use such an expensive camera. I own an expensive camera because photography is my livelihood and my line of work encounters many reasons for needing to invest in high quality equipment. But great images are shot by photographers, not gear. If your images are only intended for web use and social media, then a decent point and shoot camera or smart phone could work well for you.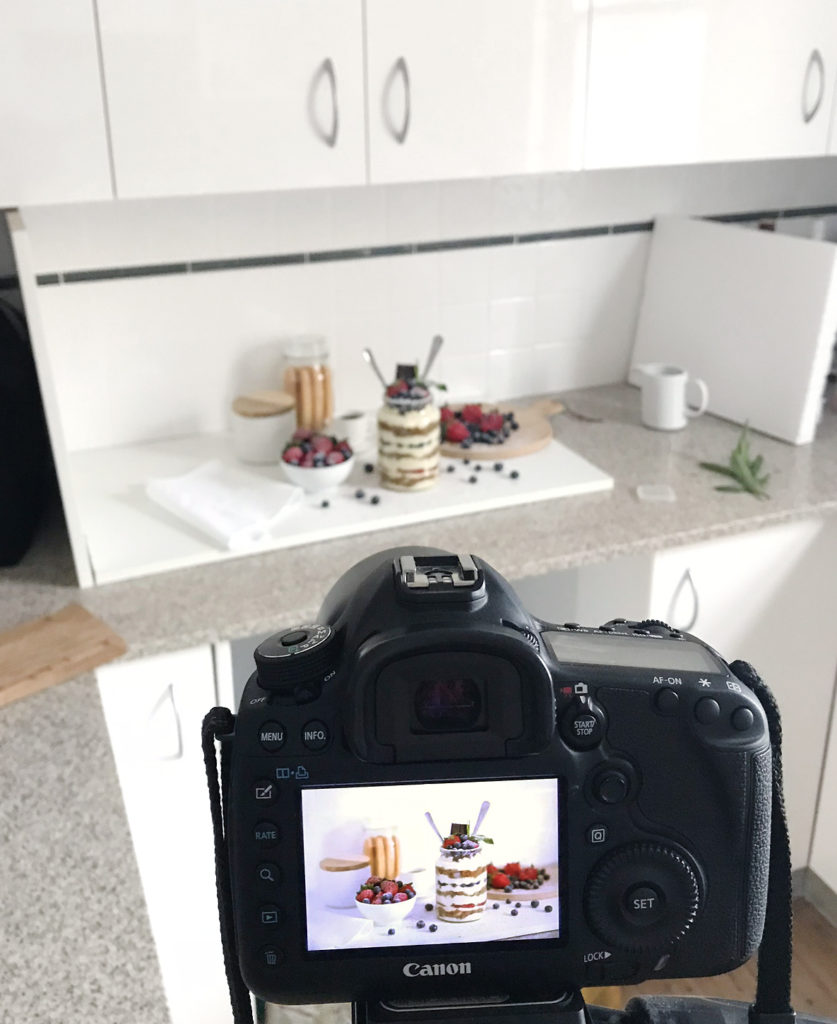 Product photography shoot at home
The Final Result
I was very happy with the final results of my photo shoot, but most importantly, Moccona Coffee was also thrilled with the content I created for this campaign. They were so pleased that they purchased additional usage on top of our original agreement and fees. When your client wants to use your content beyond its original scope, you know that your photo shoot was a resounding success.
You Can Do This Too
Anyone can shoot quality product photos with a simple home set. With thoughtful planning, a clear vision, and some creative problem solving, you can have a successful photo shoot at home saving you money that you might have spent on studio hire. The most important thing to understand is that it's not about having the expensive gear. Great photography is all about the light, and one of the best light sources around is free for everyone to use.