Mastering the flatlay is all about the details. Once you've learned how to make your hero product take centre stage in your flatlay, it's time to turn your attention to the supporting props. Secondary props add context to your hero product. They help place your story in the right setting making your flatlay feel more real and therefore more relatable.
It can be tiresome and time-consuming to have to collect the right props each time you shoot a flatlay. Wouldn't it be better if you had a collection of props that you could always rely on for your next photo shoot?  Great news because I've got you covered! Read on to learn my top tips for how to build the ultimate flatlay prop collection.
Flatlay Prop Tip #1:  Variety Without Being Loud
The key to selecting props for photography is making sure you're adding details that don't outshine your hero. Colour plays a major role in this. Stick to whites, blacks, and neutral tones with your props so they can work with whatever colour palette you use in your next flatlay. Brightly coloured props tend to stand out, sometimes steal the limelight and make it tricky to use over and over again.
Selecting a variety of textures and materials will visually mix up the look of your flatlays without appearing too repetitive. Collect blankets, sheets, wood and marble objects, trays, napkins and tablecloths in different materials and subtle patterns.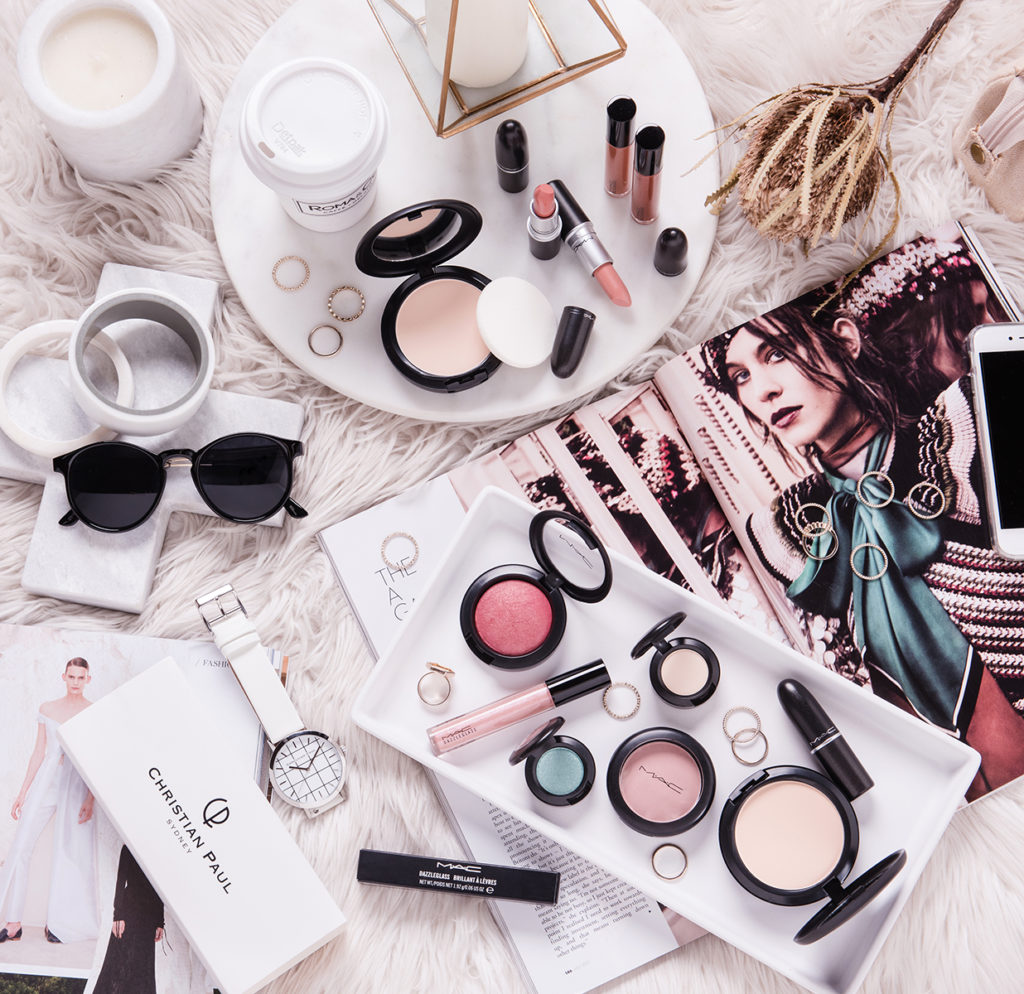 Flatlay Prop Tip #2:  Think In Layers
When building your prop collection, think about how you can create layers in your next compositions. Collect plates, bowls, trays, vases, glassware, and cups in a variety of shapes, sizes and neutral tones so you can stack them together or place other objects on them. Those containers can then be filled with all sorts of things from food or drinks, office accessories, make-up, flowers, jewellery, or even your hero product.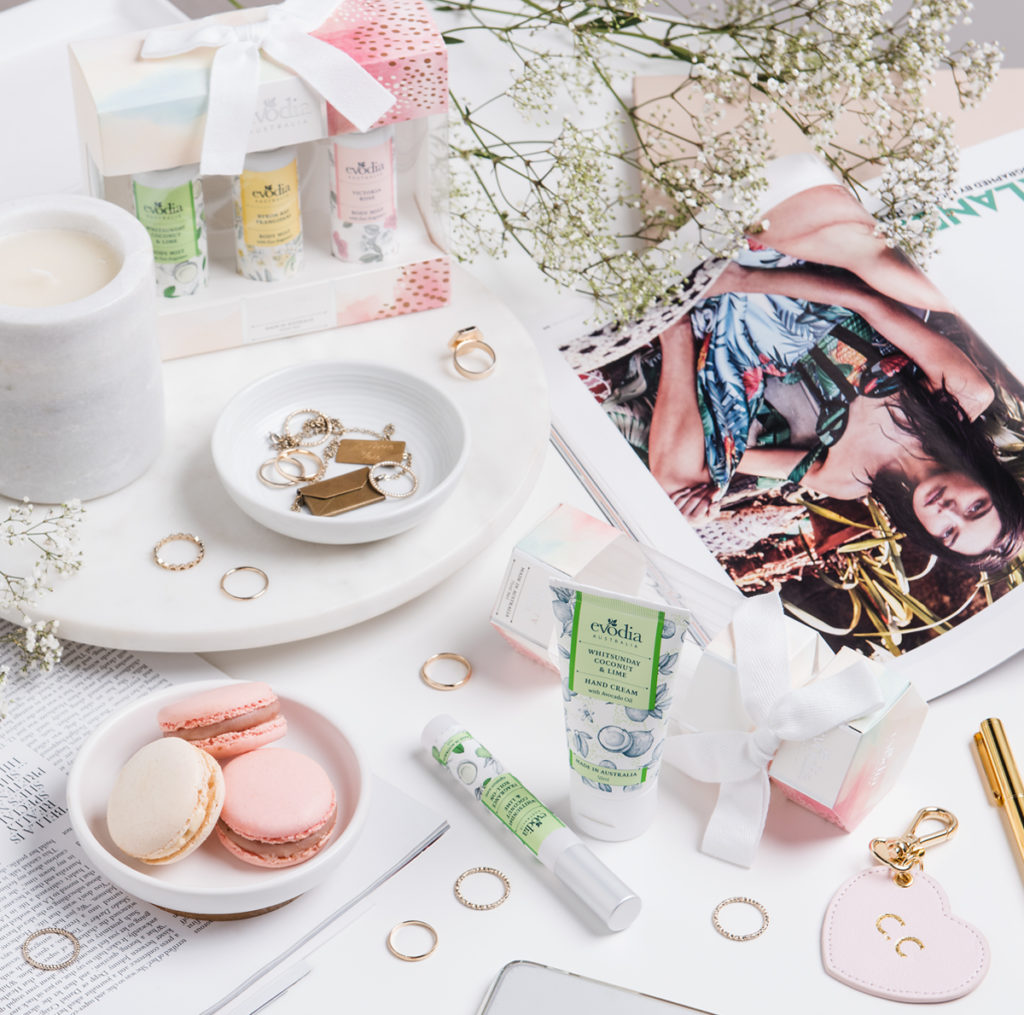 Flatlay Props Tip #3:  Remember To Accessorise
Just like any outfit, a few key accessories can truly pull a look together. Excellent options you probably already own are sunglasses, jewellery, make-up, shoes, hats, bags, and watches. Anyone following my IG feed @whatshepictures will already know that I'm a big fan of simple rings to fill in the gaps of my flatlays. The trick with fashion accessories is to choose items that have a classic, understated, timeless style.
If your fashion accessory prop can be called a statement piece, it might steal the show from your hero. And just like any statement piece, the louder the statement, the less often you can get away with using it.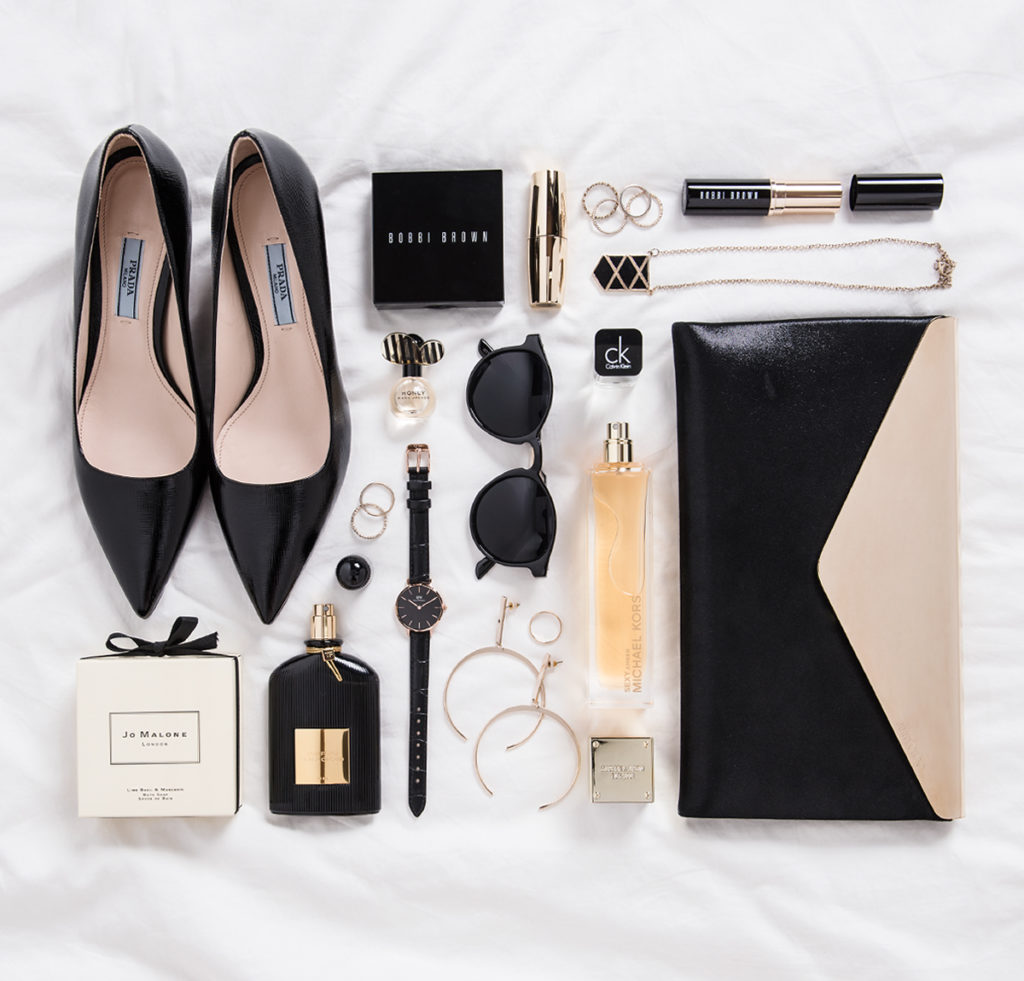 Flatlay Props Tip #4:  On The Desk
Everyday office items fit into many flatlay scenes, especially the ever so popular desk situation. Great desk props could be pens, notebooks, glasses, paper clips, books, and other office supplies. Magazines in particular offer a treasure trove of variety. Flip open a magazine to a fashion editorial and you've got a new prop that can dramatically sway the overall feeling of your flatlay.
Tech props also set the scene of your desk space and you're likely to own a number of options already. These include your own computer, keyboard and mouse, mobile, iPad, headphones, camera, speakers, and even computer cords.
Coffee or tea is a huge favourite when styling flatlays because it implies a person's presence even when no one's actually there. Best of all, you're likely to have it in your kitchen anyway.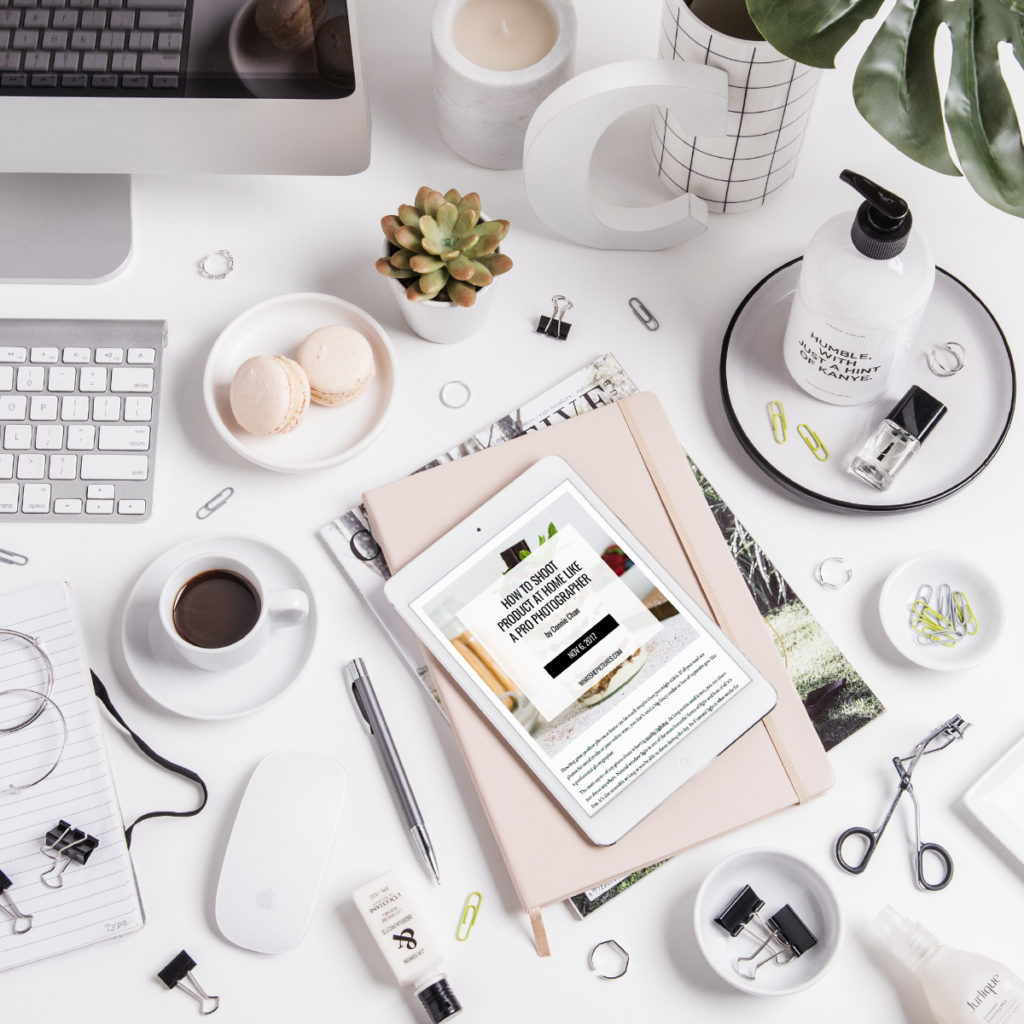 Flatlay Props Tip #5:  Look To Nature
You can never go wrong with including little potted plants or flowers in your flatlay. They are hands down a definite crowd pleaser. But buying flowers for every shoot can take its toll on your wallet. Fake flowers can come in handy in a pinch, but be careful when selecting them because they can sometimes photograph looking too plastic.
The best solution could be picking flowers that grow wild or from your own garden. But why stop there? Nature is full of beautiful colours and textures of all shapes and sizes. Leaves, twigs, stones, pinecones, shells, sand – the options are endless. So pay attention to what's available right in your own neighbourhood next time you step out your door.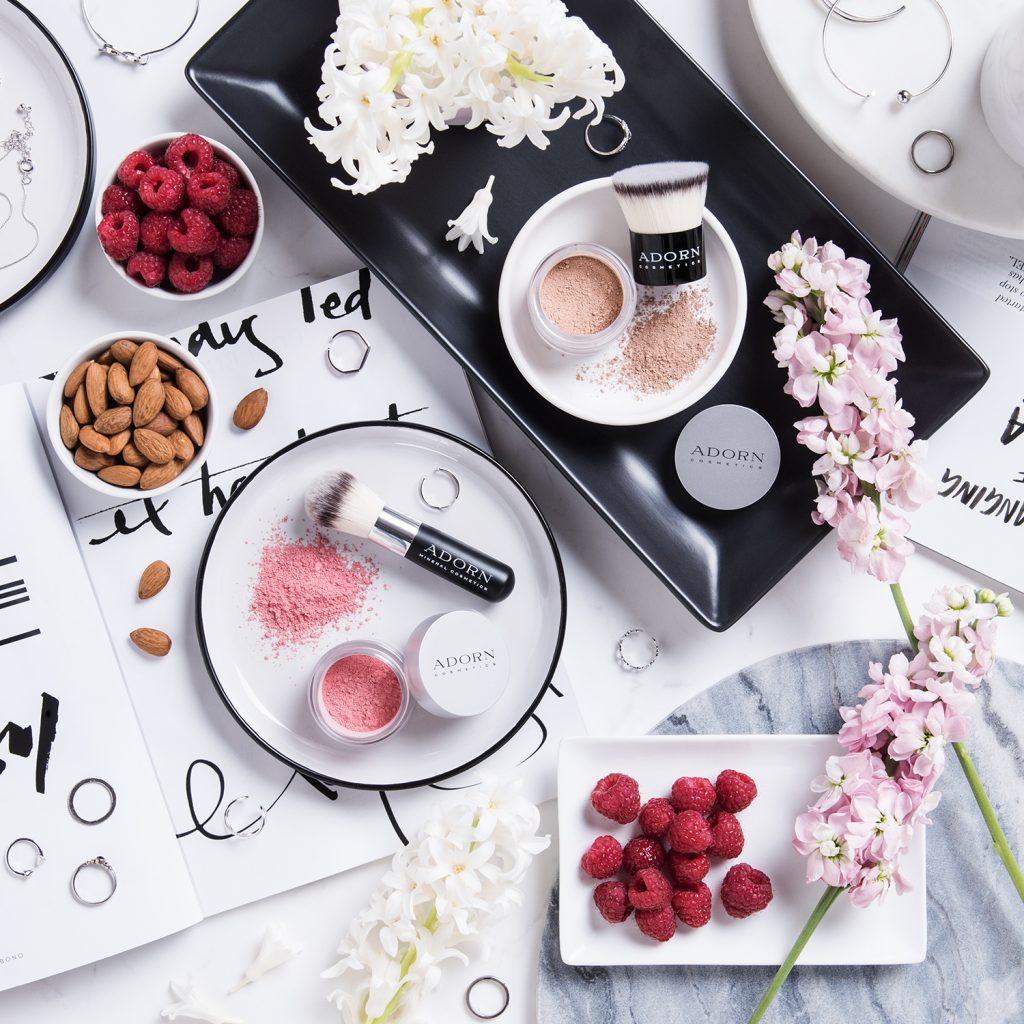 Flatlay Prop Tips #6:  A Little At A Time
Having a versatile prop collection makes shooting content much easier than starting from scratch every single time. But don't stress about creating your perfect collection right away. For each photo shoot you do, consider investing in one or two new supporting props that you can reuse over and over again and add it to your growing collection. With time and patience, each addition will build into a hand-curated collection of props unique to you and your style.
Note: This blog is in collaboration with Vamp and first appeared on vampcollective.com