I've had my recent US road trip penciled into my imaginary diary since November 14, 2012 – about 5 minutes after experiencing my first total solar eclipse. I'm not sure if you can call me an eclipse chaser now that I've planned two holidays around seeing this rare phenomenon, but I will because I think it makes me sounds kinda cool.   
I learned something important from that 2012 solar eclipse in Queensland, Australia: I needed a new DSLR if I was ever going to shoot an eclipse again. I was really happy with the shots I took during those incredible 2 minutes, except for the details in the shadows. They were muddy as fuck and I wasn't going to let that happen again.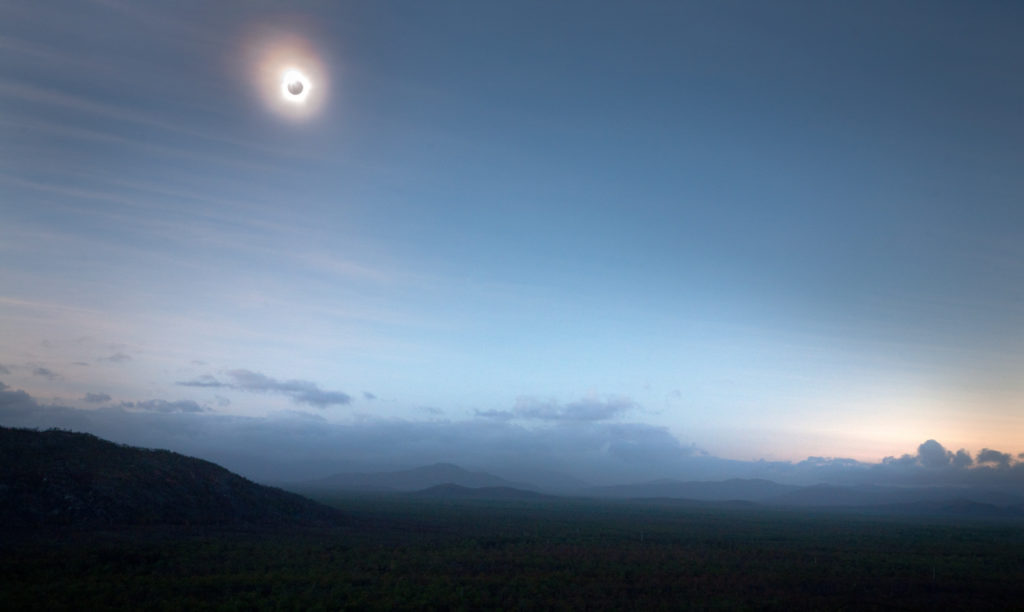 Total solar eclipse 2012. Queensland, Australia. Camera: Canon 5D
Fast forward almost 5 years later to the night before the next big event. My friends and I flew into Denver, Colorado, hired a van, and drove out to Casper, Wyoming, the place we predicted to have clear skies and plenty of space for viewing. All accommodation in the town had been booked out about a year in advance, so we camped on the side of the road just outside of town planning to wake up early the next morning and drive somewhere else if we were unlucky to have clouds overhead.
I photographed the stars that night on my Canon 5D Mark III (upgraded from my Canon 5D) to familiarise myself with the brand new tripod that I bought from Wal-Mart earlier that afternoon. I didn't want to pack my heavy tripod for the 3 minutes I'd need it and I was told that Wal-Mart has an amazing return policy (verified). Everything was working great and I managed to grab some fun snaps of our sketchy campsite.
It was when I grabbed my camera the next morning that panic set in.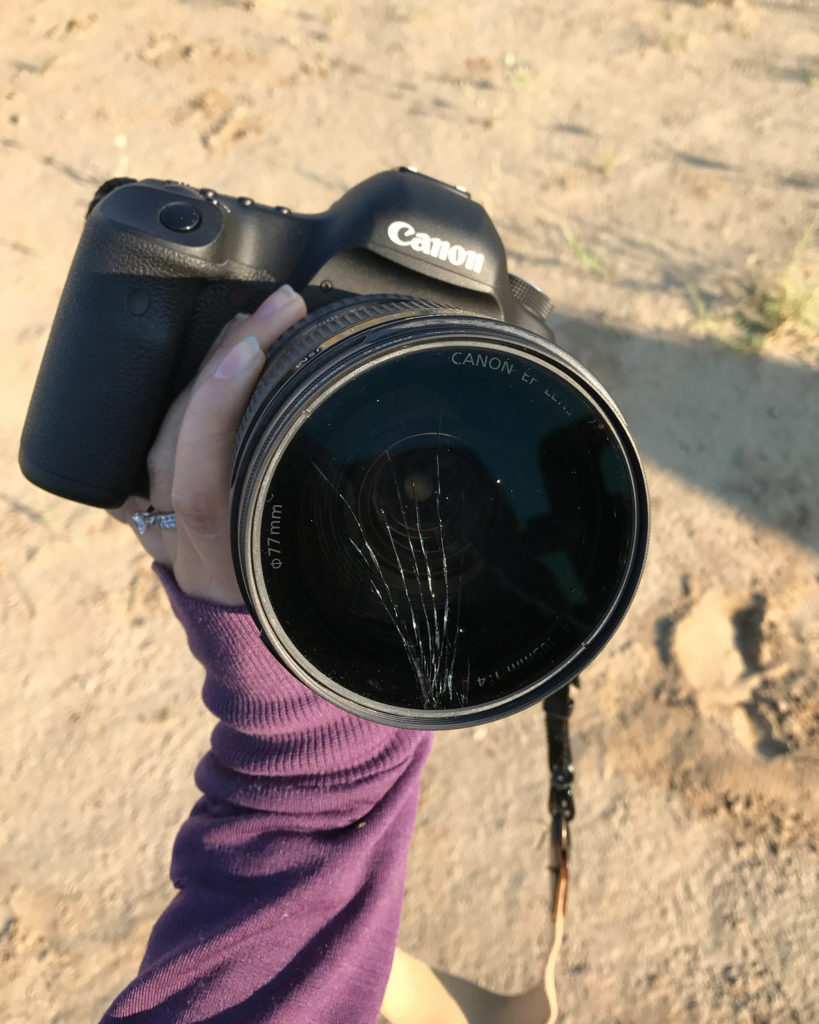 UV filter on my Canon 5D Mark III camera
I'm not sure what happened, but I think my lens wasn't happy with the sudden temperature drop that night. That morning I discovered giant cracks across my lens that weren't there the night before. Actually, the cracks weren't on my lens, but on the UV filter that I forgot I had left on it. I tried to remove the filter, but it wouldn't budge. Somehow, it was warped and was stuck on my lens. It was my only lens. And now I couldn't use it.
You could call it a rookie mistake to not bring a backup lens, but it was more like a lazy mistake. I legitimately couldn't be bothered with carrying a backup lens (surely nothing would go wrong, right?), and now I was faced with paying the heavy price for my laziness. I had been looking forward to shooting the eclipse with a better camera for nearly 5 years and it was looking like I would have to shoot it with my point and shoot camera instead.
The thing is, I literally bought my camera because I wanted to take better photos of the solar eclipse. Literally. I wasn't about to give up only 2 hours away from that pivotal moment. I made the call.
I made Hubby destroy my UV filter while it was still attached to my lens. He cracked it harder and pulled out the broken shards of glass trying very hard not to scratch my very expensive, one and only lens. I don't know how much time passed while the operation was underway, but during that time I was an extremely stressed and silent little photographer unable to do anything but stare and hope. Eventually, Hubby cleared the UV filter's glass away. The filter's ring was still attached along with tiny bits of broken glass, but I could shoot the eclipse now. With my newly scarred ghetto chic camera.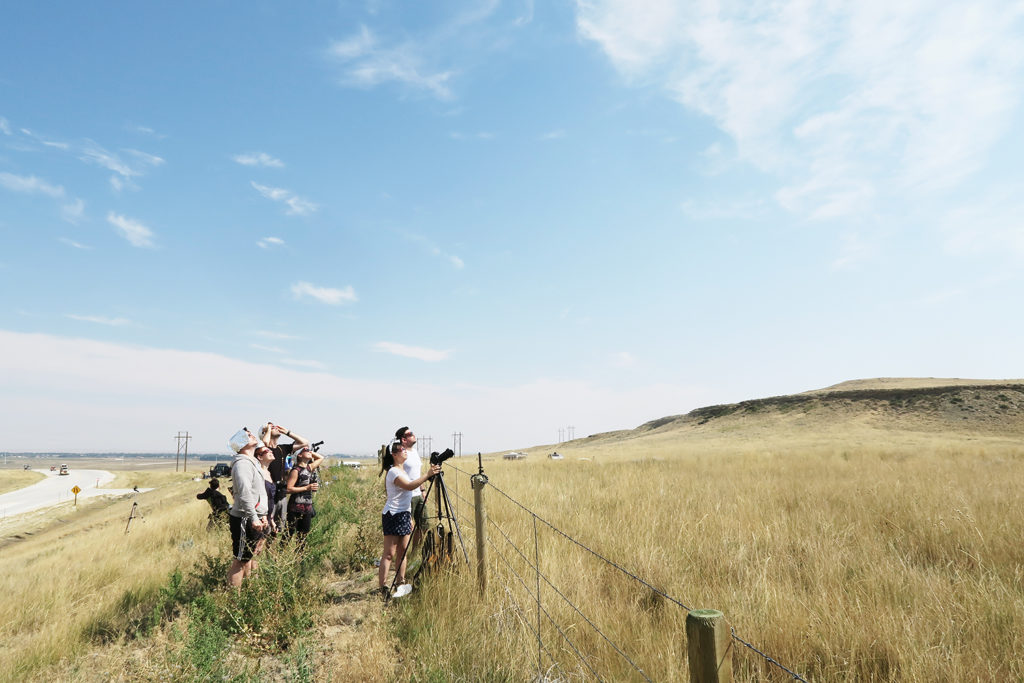 All ready for the big event with my friends, my Canon 5D Mark III and a tripod from Wal-Mart.
Could we have damaged my lens? Yes, I was incredibly lucky we didn't. Was I stupid to risk damaging my $1000 lens for one shot? Probably. But in my books, cameras (and lenses) are tools and a tool that can't be used is worthless. Tools can be replaced, but that moment of totality in Casper, Wyoming on August 21st, 2017 would never come again. 
So what's the lesson of my little story? I'm not actually sure myself. It's just a story of what I once did to get a shot. As a photographer, it's your job to show up and get 'er done.
Scratch that. The lesson of my little story is to always bring a backup lens.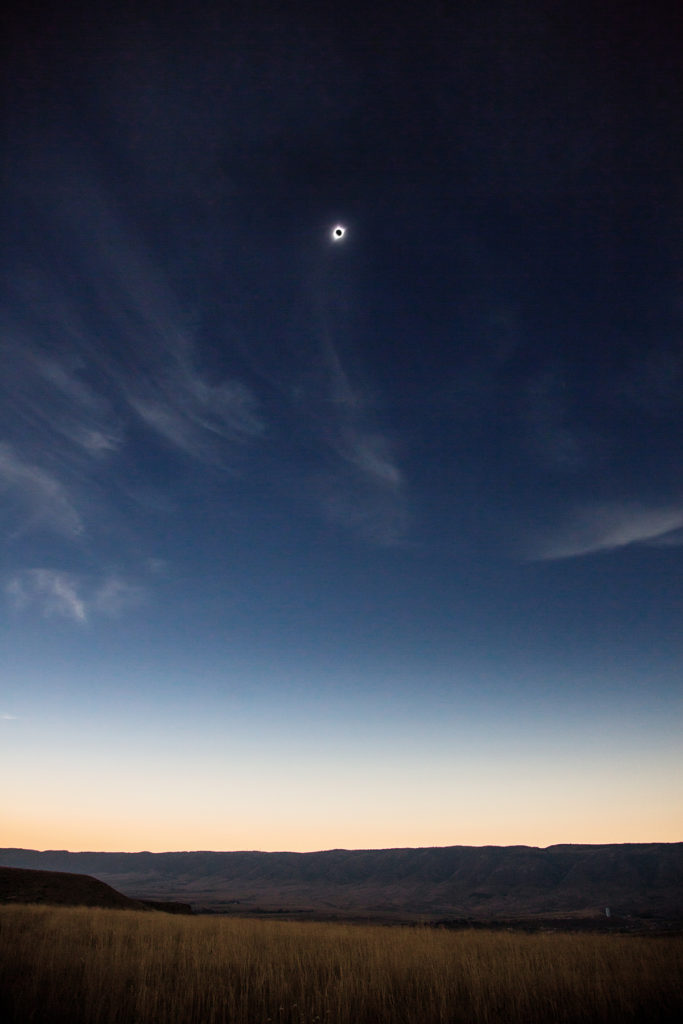 Total solar eclipse 2017. Casper, Wyoming. Camera: Canon 5D Mark III